Aliases: Amy Juggs, Amy Azzure, Amy Anderson, Amy Anderssen,Barbi, Barbie, Barbi Hardcore
Cup size: 36H
Birthdate: May 4, 1985
Biography: Jayna James is from Windsor, Ontario, Canada. She began modeling prior to 2005 (not sure when) and was known for her big fake tits, her beauty, and her willingness to do just about anything. Her work wasn't just hardcore but nasty hardcore – bukkake, humiliation, brutal gangbangs. To say she's into rough sex is being polite. Well maybe she wasn't into it but I don't know why this beauty would go to the hardcore shit so soon in her career and she did want it to be her career.
By 2005 she had disappeared to work as an escort, mainly in Toronto but also in London (under the name Amy Azzure), Las Vegas and Vancouver. She left the name Jayna James behind and reinvented herself as Amy Juggs.
She had cut out the harder core stuff and her boobs were a bit bigger. For some reason she left the name Amy Juggs behind for the name Amy Anderssen but I think she's gone back to Amy Juggs (I was wrong, she seems to be sticking with Amy Anderssen and has her official site AmyAnderssenXXX.com). She also continuously seems on the brink of making a big comeback. She is to make another comeback in 2008.
In 2010, Jayna had another (she's had 5 so far) boob enhancement and is currently an H cup.
Jayna James is 5'6 and measures 40-26-36. She currently lives in Toronto.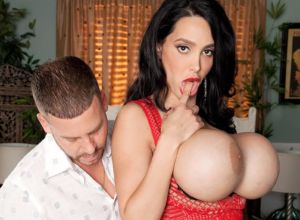 0
Amy Anderssen has gone shopping. And what did Amy shop for? That garment that's revered...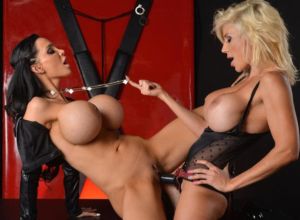 0
Watch Full Scene at Kink "Hi I am Puma Swede and I got this little...