Cup size: 32XXX
Birthdate: March 19, 1983
Biography: Beshine was born, raised and still lives in Germany. In 2007 she began posting images of herself with her face blurred on the internet. In January 2010 she released her own site, beshine.com that reveals her face.
She bills herself as the Biggest Boobs in Europe but I couldn't find her actual breast size anywhere. They are constantly getting bigger however as she gets regular saline injections.
She is 5'6 and measures 59-28-36.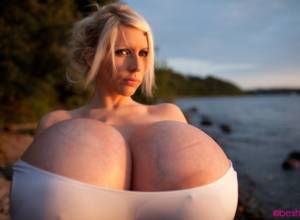 0
Big Busty Blonde Beshine on the Rocks.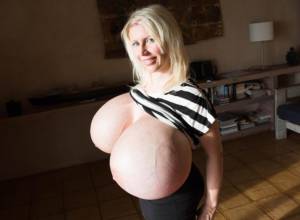 0
Holy shit! Here is Beshine in black and white stripe top flopping her massive vainy...