Cup size: 153XXX
Birthdate: 1976
Biography: At some point you just got to say 'holy fuck' and Chelsea is beyond that point. You barely even notice hard, slim body, long legs or natural beauty. This natural D cup began her career stripping and got a certain type of implant (polypropylene string breast implants) that keep growing. Chelsea has to keep getting them made smaller monthly – which is why her tits are rarely the same size in different pictorials.
From what I can find out, Chelsea is still pretty busy between her own fan site and Photo Club. While those who don't like fake tits or big tits at all just view her as a freak, Chelsea has a huge following among men who would love nothing more then to fuck and suck her huge tits. She would love it as well – according to Chelsea her nipples are still as sensitive as ever and nothing makes her pussy wetter then having her nipples sucked and gently bitten.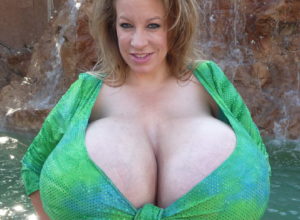 0
Chelsea Charms in green top a white pants exposes her huge silicone tits.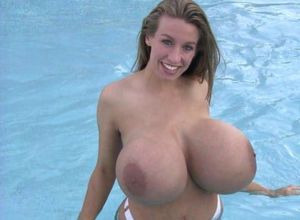 0
Rare footage of the incredible Chelsea Charms enjoying a nice day at the pool.