Venera getting ready for the shower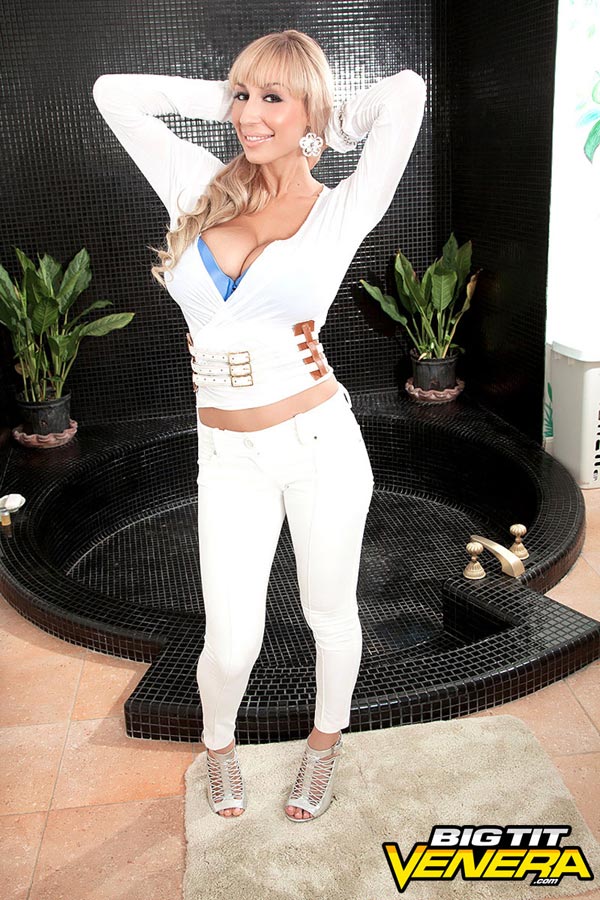 Venera gets wet in a cool bathroom, so to avoid a cold, she must undress and get out of her wet clothing. This shoot is from May '13 SCOREmagazine and like any Venera pictorial, her posing skills are off the meter, whether it's hanger shots or her acrobatic, fuck-me spread poses. Her mind-blowing 32H-cup topshelf and her super-slim waist are only two of Venera's many charms. She is a living Barbie who has it all. Venera's gorgeous taco alone deserves an award.
Venera's a certified fitness trainer and a popular webcam model. On the subject of Barbie, Venera loves dressing like a Barbie doll. "Sometimes I have a lot of fights with my mom. She thinks I am dressing too sexy or showing too much, but she doesn't understand that I am young and having fun. She thinks I should dress more conservatively."
"Girls stare all the time, and sometimes they make comments that aren't very nice. They say, 'Look at that girl! Look at what she's wearing. Look at her fake boobs!' They don't understand. They can't believe that my breasts can be so big and natural. I think if they had boobs like mine, they would be wearing the same type of clothing." We would like to think so.
In 2011, Venera was second to Valory Irene in the Newcomer of the Year contest. In 2012, Venera was 1st Runner-up in the Model of the Year contest losing to Valory again by only 14 votes. This is the smallest margin in the 11-year history of the award. That's how narrow this race was.