Aliases: Tracy Tops, Wendy Beavis
Cup size: 36JJJ
Birthdate: 1970
Biography: Traci Topps was born in Houston Texas. After graduating high school, Traci decided to leave her hometown and travel – taking odd jobs along the way. After about a year of crappy jobs she returned home to look for a full time job. She met up with a stripper called Topsy Turvy and was convinced to try out dancing. Around this time she got her first set of breast implants.
From there, Traci met her first husband, who happened to be a porn producer, and he convinced her to star in some of his films. About a year of dancing and Traci was asked to start posing for some big boob magazines (among them Score). Traci also worked for a time as Danni Ashe's PR person Busty Dusty in their short lived website The Fantasy Cafe.
In the summer of 1998 Traci retired from dancing and modeling. Ending her career at Scoreland after never doing any hardcore movies or any insertion scenes.
It is rumored that Traci has married a part owner of Scoreland and lives in England with him. She has also had her implants removed.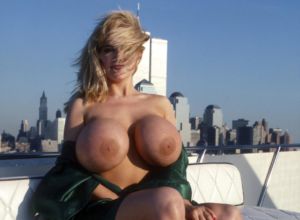 0
Rare photos of busty legend Traci Topps for Penthouse.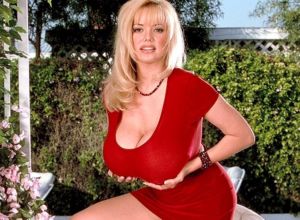 0
Busty legend Traci Topps wearing a red top and skirt exposes her massive tits in...