Busty Marriage Canceller Natasha Nice gets pussy
Georgia Jones is sitting on an office couch and scowling, her foot tapping impatiently with a rhythmic clack of her high heeled shoe against the ground. She complains to marriage counselor Natasha Nice that her husband is 10 minutes late – again! Natasha looks at the time and remarks that if Georgia doesn't want their hour to go to waste, perhaps they should just begin without him. Georgia huffs that she doesn't see what they're going to accomplish during a marriage counseling session without her own husband. Natasha tries to calm her, suggesting there's plenty they can discuss and accomplish without him. Georgia agrees, if only because otherwise she spent all that money on the session for nothing.Natasha starts by asking Georgia to describe what an average day is like for the couple at home. She describes what a day is like for them, all the way up until the end of the day when they go to sleep on separate ends of the bed. The counselor points out that Georgia didn't mention her sex life while describing an average day, how is their sex life as a couple?Georgia looks upset and uncomfortable. She explains that her husband has no interest in foreplay or reciprocation during sex, it's all about his needs. She doesn't feel like he even cares about her satisfaction. Natasha asks if Georgia has ever expressed this to him, or talked about what her needs are when it comes to sex. Georgia is embarrassed and admits that she hasn't.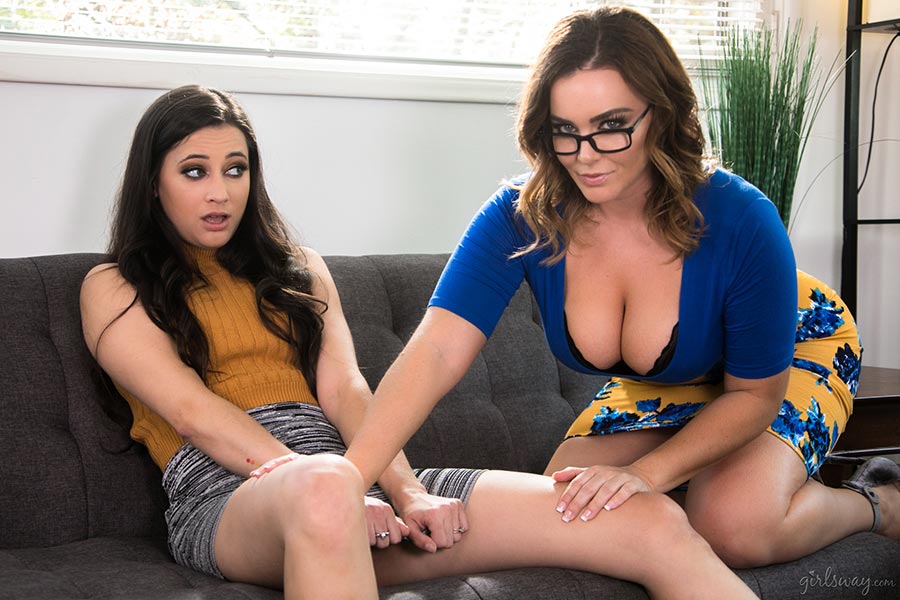 The counselor explains that it's pretty common for couples to feel uncomfortable talking about sex openly and that it's usually just a matter of communicating what each of them really wants. Georgia says she doesn't really know how to talk about that sort of thing, she comes from a very conservative household. Natasha suggests they do a roleplay exercise – to get Georgia comfortable with talking openly and honestly about sex topics.Georgia asks what Natasha has in mind, and Natasha says that she'll roleplay as Georgia's husband and Georgia can practice what she would tell him about her sexual desires. Georgia looks at her in disbelief – what, right now? Just the two of them? Natasha reassures her that it's better to practice this while her husband is not here to pressure her or talk back. Georgia begrudgingly accepts.They begin a quick roleplay exercise, with Natasha (roleplaying as the husband) saying that Georgia hasn't seemed as into sex lately. Georgia giggles nervously and hides her head in her hands, but Natasha encourages her to take it seriously. Georgia apologizes and they start again. Natasha repeats that Georgia hasn't seemed as into sex lately, and Georgia sheepishly replies that she doesn't feel her needs are being met.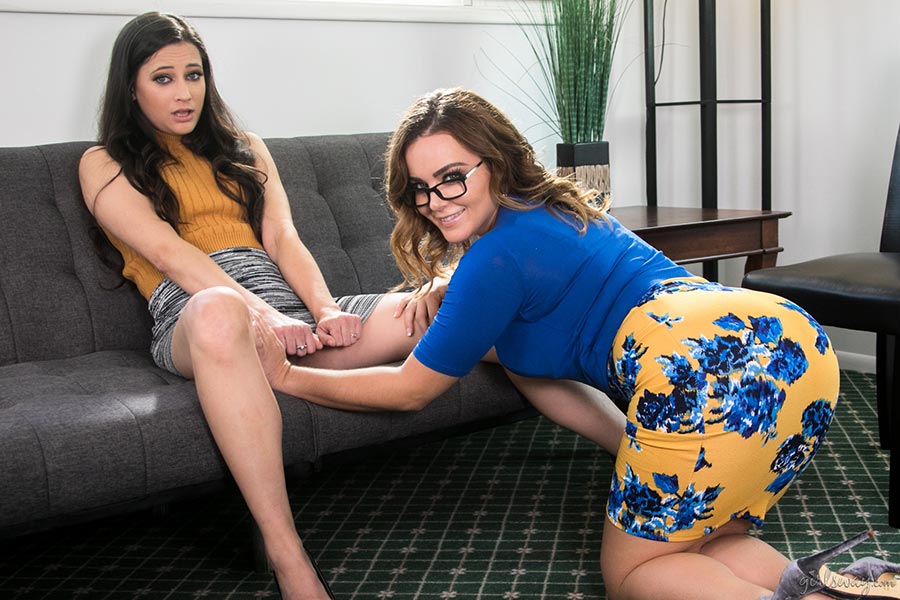 Natasha asks in a concerned tone, what needs? Georgia takes a deep breath in and says that for instance, he always asks for blowjobs but he's never willing to do oral on her, and it makes her feel like the sex is all about him. Natasha asks, 'Would you like me to eat you out?' Georgia says yes, she just never feels right asking.Natasha suddenly gets out of her chair and kneels in front of Georgia's seat, and places her hands on Georgia's thighs as if to spread her legs. Georgia flinches and pushes the counselor's hands off her legs, what the hell is she doing? Natasha calmly looks up at Georgia from the ground and explains that Georgia needs to see how asking for something openly and honestly can lead to the desired outcome – in other words, Georgia needs to see and feel that her words have power. Georgia seems very unsure and hesitant, but Natasha promises that it would just be momentary and that she will remain strictly professional. Georgia reluctantly agrees, and Natasha pulls aside her panties and begins to attentively eat Georgia's pussy. Natasha continues licking her slit enthusiastically until she gives Georgia an intense, leg-shaking orgasm. Overcome with passion, Georgia pulls Natasha up off of her knees and kisses her voraciously, squeezing Natasha's massive tits as both women moan. Georgia sucks on Natasha's perfect pink nipples, moving her hand down between her legs. Natasha may have started the session as a marriage counselor, but when she's done with Georgia, she may just prove to be a marriage CANCELLER…