Aliases: Tommy TaTas, Tommy Tatas, Wendy Woppers
Cup size: 80HHH
Birthdate: August 13, 1968
Biography: Wendy grew up in St. Louis, Missouri and had a variety of shit jobs before becoming a dancer at 18. She worked in malls selling things like gourmet popcorn and waitressing in restaurants while she was working her way thru college to become a lab technician. She decided to give dancing a try and was sucked in by the amount of money she could earn. She dropped out of school, got her natural B cups enlarged to a whopping HHH cup and worked in porn for almost a decade during the 90's.
Wendy, which is her real name, danced under the name Tommy Tatas for awhile but changed it to Whoppers as her tits got larger and larger (she's had 4 enlargements). Big fake tits were where the big money was back in the nineties for feature dancers. She also did over 100 movies that ranged from solo stuff, toys, hardcore, orgies but never anal – she just doesn't like it.
Wendy got married (and divorced) during her career and had two sons. Since her retirement in 1997, she is living in Ft. Lauderdale with her sons and her boyfriend, has about a million pets and has had two breast reductions. Her current cup size is 38E.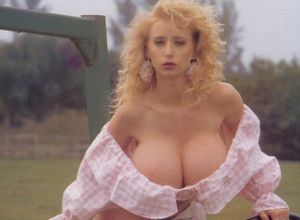 0
Classic huge breasted Wendy Whoppers goes as a rural girl with her country boots!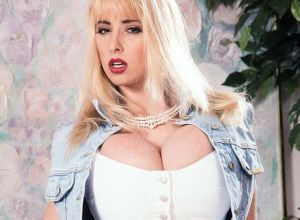 0
When she first started dancing, she used the names Lacy and April. When she began...